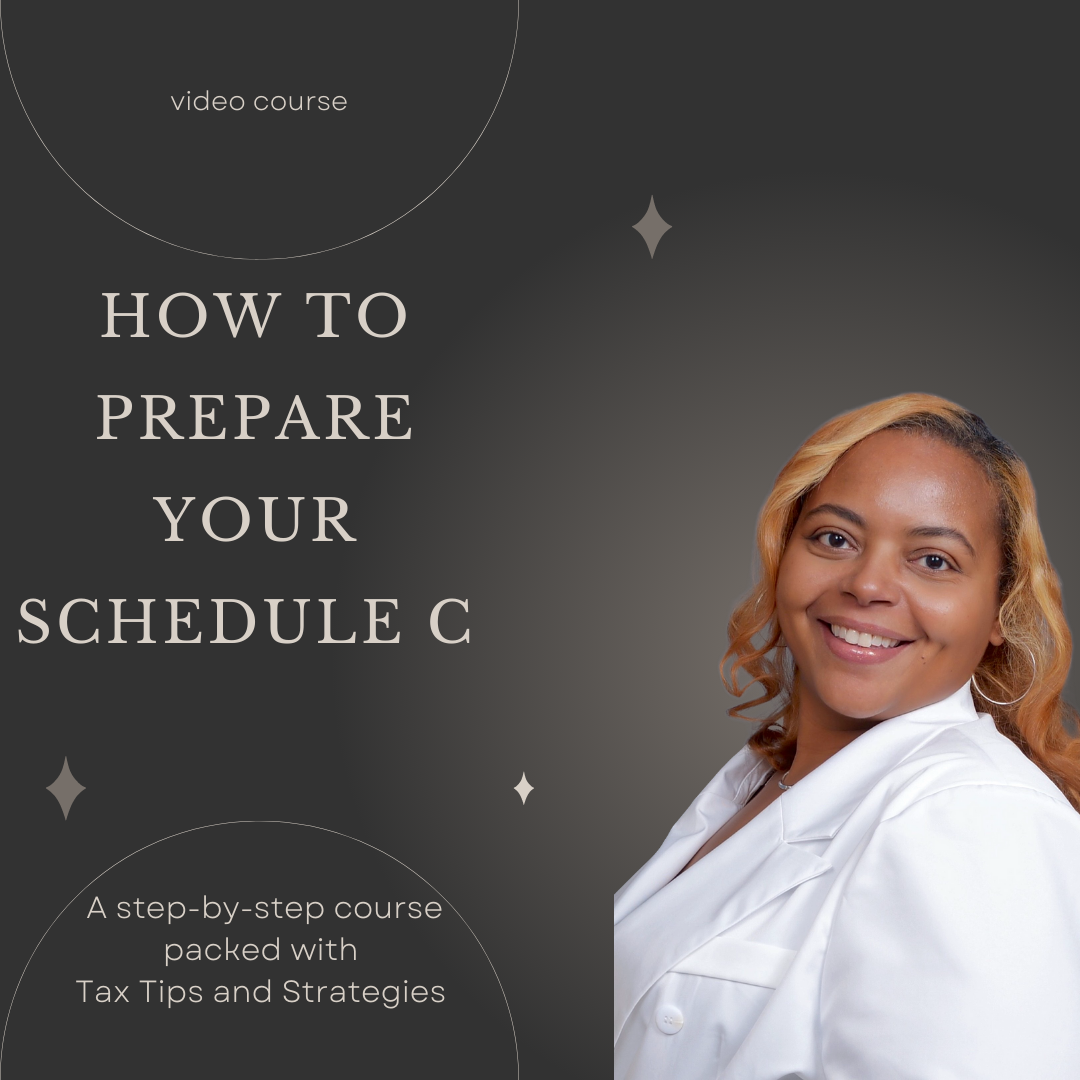 How to Prepare Your Schedule C
On Sale
$49.00
Preview
Are you clueless about how to prepare your Schedule C Form? Well I'm here to help you figure it all out!
In just under an hour, you will learn
step by step exactly what you need to know
in order to accurately prepare your
Schedule C
.
I will teach you about...
what this form is
who is required to file it
when you're required to file it
the benefits of "why" you should file it even when you weren't required to
what information you'll need to accurattely file it
how to show support of what you're reporting on it
business tax deductions, home office deductions, auto deductions
and Resources to help keep you organized
Okay...you either fit one of two types of people:
Person #1
- you've never prepared your own Schedule C before and have no clue you're about to attempt to do. You're lacking knowledge about this form...so you definitely need this class.
Person #2
- you've prepared your own Schedule C in previous years...but...it is highly likely that you made costly mistakes and/or even missed opportunities that you had no idea you could use.
But guess what...now you can be
Person #3
...and become the person who knows what the hell they're doing and confidently take on the task of preparing your own Schedule C...minimize your concerns...your worries  be ahead of the learning curve...and sleep better at night!
Throughout the Masterclass I'm sharing
insider tips that the average person doesn't know
. I'm also teaching you about
strategies that can help other financial goals
you may have and how your Schedule C plays a role in various financial decisions.
Even if you're someone who uses a Tax Professional to prepare your taxes, shouldn't you educate yourself on what this form is about? Believe it or not, not all tax professionals are created equal and you might be using someone who is not that well knowledged about this form. So do yourself a favor and empower yourself with knowledge today!
This Masterclass is for people who are fully self-employed but it's also for people who are working at a job. All industries welcomed even if you're an unregistered side business...or a registered Sole Proprietorship or you are registered as an LLC in your State.
As a BONUS...I included a checklist of business tax deductions!
So click the button to make your *tax deductible" purchase that you can claim when you file next year's tax return. I'd love to hear your feedback after the course!